Do you have trouble presenting Instagram feeds on your website? Looking for a way where you can seamlessly add your Instagram feed to your WordPress website?
These amazing Instagram WordPress plugins make it easier than ever to incorporate that content into your website.
There are both freemium and premium versions of these plugins, so you can seamlessly integrate your Instagram photos and videos on your website.
However, upgrading to a premium Instagram plugin for WordPress can provide you with a whole lot more functionality. A premium tool lets you add more filters or you can choose which images or videos you want to display on your website and much more.
In this blog, we have hand-picked some of the best Instagram WordPress plugins that will help in adding your Instagram content to your website in a more interactive way and boost overall engagement.
But before that let's have a look at the reasons why you should include these Instagram WordPress plugins in your must-have plugins list!
Why is there a need for a WordPress Instagram Plugin?
According to Backlinko, Instagram has over 1.3 billion active users, making it the third-fastest growing social media platform in the world. It has a stranglehold on quite a few industries socially like fashion, art, music, traveling, fitness or cooking.
Companies in these industries use Instagram to showcase their products in a more colorful and vibrant way, which allows them to connect with customers beyond Facebook and Twitter.
Chances are you might have already an Instagram account. And you are missing a whole chunk of potential for bringing in more customers if you have not linked your Instagram content to your website so far.
Thankfully, there are WordPress Instagram plugins that are as easy as using Instagram itself and with no additional knowledge required lets you add your Instagram photos to your WordPress website.
Here is why you should use the WordPress Instagram Plugin:
You can add a touch of excitement to your brand by using Instagram photos, which are often far more intriguing and colorful than regular website photos.
You can then manage your Instagram content from one place. Many business owners frequently visit their websites. With many of the WordPress Instagram plugins, you can respond to comments and upload photos without leaving your website.
Instagram feeds on your website increase engagement since people are more likely to stay and browse the photos.
By allowing the visitors to your website to follow you on Instagram, you can increase the number of Instagram followers you have.
So, now you know why WordPress Instagram plugins are the need of the hour. It's time to know how you can add your Instagram feed to your WordPress website.
How to add Instagram Feed to WordPress?
Adding your Instagram feed to WordPress has never been easier. Thanks to these easy-to-use and power-packed Instagram WordPress plugins. These plugins can be used to display content in a variety of layouts.
You can select which of your accounts to import photos from, how many items to import, as well as a few other options when setting up the plugin.
Using a widget, you can then show your Instagram photo feeds on your site's posts and pages, as well as in the sidebar and footer – perfect for enhancing user interaction.
By keeping user requirements in mind, we have shortlisted the best WordPress Instagram plugins both free and premium versions.
So, keep reading!
Best WordPress Instagram Plugins 2021
Instagram Feed by Smash Balloon
Instagram Feed by Smash Balloon is a robust Instagram feed WordPress plugin created by SmashBalloon. Used by over 1,500,000 users worldwide, it has become one of the most popular and widely-used Instagram plugins for WordPress. It has amazing user reviews and is available in both free and paid versions.
It offers reliable data caching that caches data from Instagram to minimize requests and decrease loading time.
The backup caching system will ensure that your Instagram feed is still visible when the Instagram API experiences a problem. Additionally, the Instagram Feed Pro has more in it.
Key Features
Here are more of its notable features:
Instagram hashtag feeds: The plugin displays hashtag feeds without scraping Instagram's website as it is fully compatible with Instagram's newest API. 
GDPR compliance: This feature allows you to show a GDPR compliant version of your Instagram feed through a one-click setting. You don't need to worry about being fined for displaying Instagram content on the website. 
Multiple layouts: It provides four layout options to choose from – Grid, Carousel, Masonry, and Highlight. 
Content moderation: Using its Moderation Mode, approve or hide specific content. For example, choose to hide irrelevant or offensive content and display only the best Instagram photos for your site visitors. 
Lightbox: It shows Instagram photos and videos in a pop-up window without visitors having to leave your website.
Pricing
The plugin comes with the following plans:
Free version.

Download now

!
The paid version starts from $98 and goes to $598. The prices have dropped down for a limited time offer.
Insta Gallery Widget from Mighty Addons
Insta Gallery Widget is a part of Mighty Addons for Elementor. So if you are using Elementor page builder and want to add an Instagram gallery on your web page, the Mighty Addons is the plugin you need to have on your WordPress website.
The widget offers you a number of premium features such as multiple layouts, embedding galleries anywhere on page or post, infinite styling options, engaging buttons, and more.
If you are in need of an Instagram gallery plugin, then we recommend the Insta Gallery widget.
Key Features
Some of its notable features are:
Multiple Layouts: Starting from the classic, the plugin offers you a number of layouts.
Load More Button: The optional 'load more' button gives your visitors the ability to display more content from your featured feeds if they wish.
Post Customization: The plugin lets you fully customize the post settings including display post elements, popup elements and action on image click.
Advanced Styling Options: Depending on your layout, the widget offers you respective styling options like post styling, popup styling or button styling to make your feed visually more appealing.
Pricing:
The Insta Gallery plugin is available only with the Mighty Addons Pro, which is paid. But if you dig it deeper, along with the paid version, you also get access to additional 45+ widgets & extensions, 25+ template kits, and 150+ pre-designed sections which are pretty great. So, Click here to upgrade to the premium version!
Instagram Feed by Tagembed
Instagram Widget for WordPress by Tagembed is an all-rounder advanced WordPress plugin that helps you to collect, curate, customize and display Instagram feed on the website. It provides easy and manageable ways to embed Instagram feed on WordPress website and helps in improving website visual appeal and functionality.
It allows integration with 19+ social networks, allowing you to aggregate content from multiple platforms using different connection types.
The plugin provides various amazing features that add great value to it and make it a useful WordPress plugin. Another factor that favors this plugin is that it has budget-friendly pricing plans, which start with the Free-Forever plan.
Key features of this plugin are:
Customization – This plugin allows you to personalize your widget as per your need. Here you can change the font size, font style, and more. It helps you in improving the overall look and feel of your website.
Moderation – Provides you the authority to hide content from your website feed. You can either remove it manually or opt for a profanity filter. The profanity filter removes the content having the provided keyword automatically.
Auto-update – There is no need to refresh the feed to get new content. The plugin automatically provides real-time updates and showcases the content as soon as it is uploaded to the source.
Responsive widget – The widget adjusts itself as per the screen size, you visitors using any gadget can now enjoy the feed without facing any trouble.
Fast loading – It provides a seamless display. It displays the content without affecting the website speed.
Pricing
Tagembed Instagram Feed WordPress Plugin comes with a free forever plan.
Although paid plans start from $11 and go up to $49. Excluding 20% off on the annual plan.
10Web Social Photo Feed
10Web Social Photo Feed is a freemium and premium Instagram plugin for WordPress with more than 60,000 active installations and has a very good user rating in Instagram WordPress's plugin. It easily lets you add an Instagram feed to any of your blog posts or pages.
With its premium version, 10Web Social Photo Feed provides you with many eye-catching features such as two useful layouts (thumbnail and image browser), an Instagram sidebar widget, infinite scroll & pagination, fully customizable layouts, and much more – making it the perfect fit for bloggers, travelers, photographers, and food bloggers.
Key Features
Let us take a look at the features in more detail:
Customizable layouts: It offers two free layouts – Thumbnails and Image Browser. Layouts such as Masonry and Blog Style are only available in the pro version.
Filtered Instagram feeds: The conditional filter is a premium feature that allows you to display or skip certain content through filter logic and condition types.
Instagram sidebar widget: With this widget, you can display your Instagram photo feed on your site's sidebar.
Lightbox: It provides support for HTML5 video and carousel features. The premium version of the plugin also provides you with 15 transition effects and a filmstrip feature.
Pagination and scroll: The plugin offers pagination, using next and previous buttons. The premium version provides you with an infinite scroll option.
Themes: It comes with two default themes. The pro version allows you to create diverse themes by changing the colors, sizes, and display styles.
Pricing
The plugin comes with the following plans:
Free version.

Download now!

The paid version starts from $25 and goes to $100.
Spotlight – Social Photo Feeds
Spotlight is a simple and intuitive solution to add your Instagram feed to your WordPress site in just a few clicks. You can connect multiple accounts and create as many feeds as you need.
With a lightbox option that shows both photos and videos, Spotlight includes a number of options in its free version that will help increase user engagement. Embedding the feed on your site can be done either via shortcode or widget options.
A premium version of the plugin packed with more functionality is also available. With Spotlight PRO, you'll have new layouts, more customization options, as well as more control over creating your custom feeds, and other cool features.
Key Features:
Let us take a look at the features in more detail:
Interactive live preview: Spotlight has a convenient setup process thanks to its interactive live preview customizer so you can design a feed without leaving your dashboard.
Point and Click Design: The customization is made simple thanks to the point-and-click design options, similar to those you'd see in page builders.
Lightbox: The free version includes a popup/lightbox option to display your photos and videos in their full glory anywhere on your site.
Engaging Buttons: "Follow" and "Load more" buttons can be added to any feed to increase engagement with site visitors and grow your following.
Customization: Since Instagram doesn't include the profile photo and bio for free personal accounts in their API, Spotlight adds options for a custom photo and bio within the plugin. You can even customize them per feed to match the message of a specific page on your site.
In-built Loading Mechanisms: The feed displayed on your site won't impact page load times thanks to some clever built-in dynamic loading and caching mechanisms.
Pricing:
The plugin comes with the following plans:
Free version. Download now!
The paid version starts from $49 and goes to $299.
WPZOOM Social Feed Widget
WPZOOM Social Feed Widget aims to give you full control over how Instagram content is displayed on your website.
Once you've installed this free WordPress Instagram plugin on your website, you'll have access to a feature-rich widget that you can add to your sidebar and footer areas as well as an insert into posts and pages.
This plugin is a good choice for WordPress users looking for a free, simple way to display Instagram photos in a widget, as there is no option to use shortcodes or add a feed to posts or pages.
Key Features:
Additionally, there are notable features:
Multiple Column Layouts: Through the default widget settings, it's possible to choose from a one-, two-, or three-column layout for presenting the images from Instagram on your site.
Choose how to display photos: You can also use the widget in full-width mode, giving you the ability to display the Instagram content in a horizontal banner across your website. If you want to create a header or footer area that's dedicated to displaying the photos from your Instagram feed, using the WPZOOM Social Feed Widget plugin in full-width mode will make this possible.
Fully Customization: You can also configure how the widget displays your photos and other images in a few more ways. Some examples include setting how many images are shown in the widget and what size those images are. You can also customize the spacing between the images, simply by entering the number of pixels you'd like between each image. Another option covering how your widget will look is whether or not a button will be displayed. By default, the button text is 'View on Instagram', however, you can easily change that.
Full Control over Content: If you want more control over how your widget and its content looks, you can add your own CSS through the widget settings panel. However, applying custom CSS probably won't be necessary for most users as the widget controls should suffice.
Pricing:
You can download it for free of cost.
Feed Them Social
Feed Them Social, not only works with Instagram, but also Facebook, Twitter, and Pinterest. If you'd rather use a single plugin to display content from a range of social media networks on your website, then Feed Them Social could be the answer.
With the free version of the plugin supporting Instagram feeds, Facebook feeds, albums, groups, and events, Twitter feeds, and Pinterest boards, pins, and the latest pins, you get a range of options.
However, upgrading to the premium version of Feed Them Social unlocks the ability to display content from YouTube video feeds and Facebook video feeds and carousels. There are also a few other extensions for Feed Them Social to check out for even more options.
Key Features
Some of its notable features are:
Shortcode generator: Using shortcodes, you can modify different aspects of your feed's layout, such as the number of posts displayed, their height, or whose posts to display.
Multiple feed types: You can configure the types of posts you feature in a feed. For example, the free version allows you to choose from three types of Facebook feed – a feed made up of posts from a Facebook page, album photos, or album covers. The content from your feeds can then be displayed in your posts, pages, and other content as well as in the sidebar areas of your site.
Highly Compatible: The content is all mobile responsive for maximum device compatibility.
Customizable: Feed Them Social is a highly flexible and customizable social media plugin that can display content from a selection of feeds.
Pricing:
The plugin comes with the following plans:
Free version.

Download now

!
The paid version starts from $85 and goes to $260.
Intagrate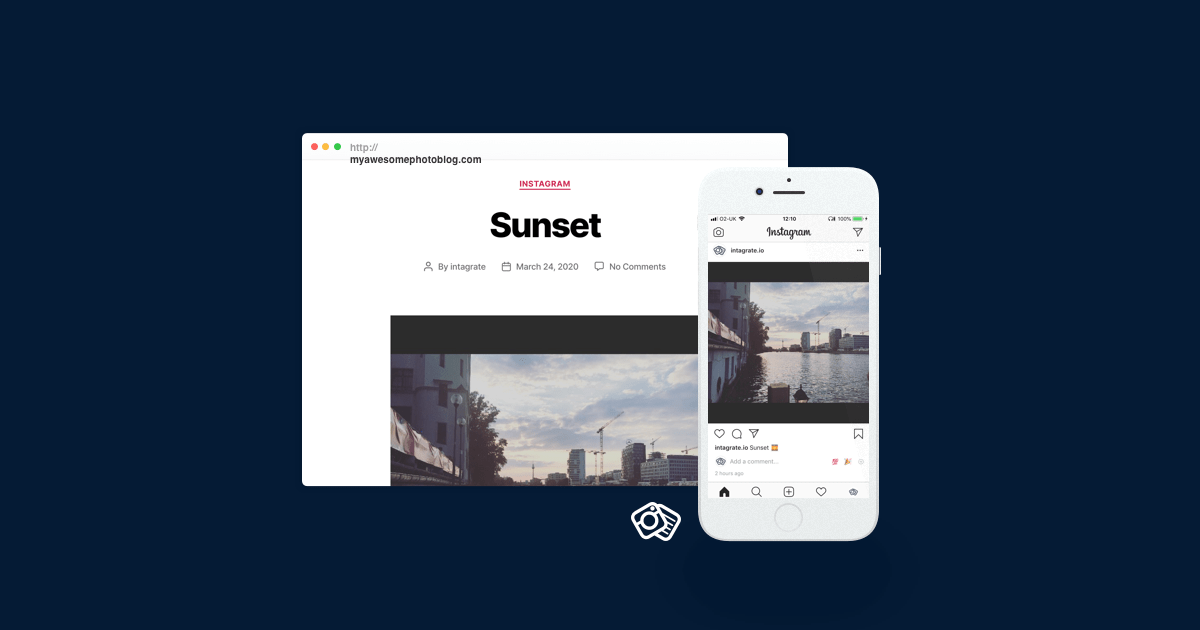 Intagrate is different from most of the other plugins in this list in that it allows you to create WordPress posts from your Instagram content, rather than simply display them.
It has an extensive list of features, including support for custom post types, converting Instagram tags to WordPress tags, scheduled posts, hashtag filtering, and more.
If you want to display your Instagram content like posts, Intagrate is one of the best plugins available.
Key Features
Some of its notable features are:
Multiple photos and videos in one post: It supports Instagram's new feature of allowing the combination of numerous photos and videos in a single post.
Unlimited Instagram user accounts: You can connect an unlimited number of Instagram accounts, all with the same or different Instagram account configurations.
Hashtag filtering: You can include or exclude content using unique hashtags.
Scheduled posting: Although the plugin posts images when people visit your website, you can adjust the settings to post photos on a daily, weekly, or monthly basis.
Hashtag to taxonomy conversion: You can turn Instagram hashtags into WordPress tags or another custom taxonomy.
Pricing:
The plugin comes with the following plans:
There is no free version available. However, you can take 14 days free trial.
The paid version starts from $85 and goes to $260.
Social Slider Widget
Social Slider Widget brings together two popular designs in the Instagram feed world. The first one is that of the Instagram widget slider, which shrinks the images for the sidebar, but then can be shown on all pages.
In addition, the slider scrolls through all of your Instagram photos so that the user sees a myriad of images as they browse your website.
The second option is the frontend widget thumbnail, which is essentially a gallery, but much smaller since the pictures are all thumbnails. The slider reveals 12 of the most recent posts on your Instagram page.
Key Features
Additionally, the plugin has the following to offer:
No Premium Upgrades: This is a free plugin without any upgrades or premium versions.
Instagram Feed Solution: It's more of a niche Instagram feed solution, with smaller sliders and widgets.
No API: You don't need access to the Instagram API.
Link Photos: The Instagram Slider Widget plugin has a nice feature for linking the gallery photos to outside URLs or to attachments or Instagram posts. This way, you might consider linking to a sales page or something similar on your website.
Hashtag: Take advantage of the hashtag feature, which is ideal for tapping into a certain topic and only showing those pictures.
Pricing:
The plugin comes with the following plans:
Free version with limited features.

Download now

!
The paid version starts from $29 and goes to $99.
Instagram Journal WordPress Plugin
Instagram Journal allows you to access virtually every aspect of Instagram, from your photos, the photos you've liked, images from a particular hashtag, photos of a location, and more.
You can host contests directly on your site and moderate photos. It also comes with a free theme, which is designed specifically for displaying Instagram photos.
Instagram Journal is an excellent choice for WordPress users that are creating their sites primarily as a location for their Instagram photos.
Key Features
Some of its notable features are:
Multiple layouts: Offers different view modes such as Classic, Collage Carousel, Section Carousel, Large Carousel, and Infinity.
Photo limit control: It allows limiting the number of Instagram photos loaded in by the API.
Customizable carousels: You can control various aspects of your carousels, such as the animation, transition, and speed.
Instagram Journal theme: If you use the plugin, you will get their Instagram Journal theme for free (originally priced at $48).
Fancybox: Fancybox is a tool for displaying photos, HTML content, and multimedia on the website through a pop-up window floating on top of the web page. It comes with customization settings, such as different display animations and title positions.
Pricing:
The plugin comes with the following plans:
An only paid version is available with a single cost of $20.
Enjoy Social Feed
Enjoy Social Feed is an Instagram feed plugin by Mediabeta for publishing your Instagram feed on your WordPress website, for which you can use both widgets and shortcodes.
It lets you display your Instagram feed in pages, posts, and sidebars with shortcodes and widgets. It has most of the standard features you've come to expect, including carousel and grid view, responsive design, HTML5 video support, and a moderation panel.
Key Features
Here are some of its notable features:
Instagram widget: An easy feature to display an Instagram feed in the widget area of your website.
Customizable layout: You get two default layouts – Carousel and Grid. You can customize the number of pictures visible at one time and the number of columns or rows.
Lightbox: A pop-up to display your Instagram pictures, complete with media caption and navigation arrow. The lightbox view also supports the HTML5 video format.
Pricing:
The plugin comes with the following plans:
Free version with limited features.

Download now!

The paid version is also affordable at a cost of € 20.99.
AccessPress Instagram Feed Pro
Equipped with extensive customization options, AccessPress Instagram Feed Pro is an Instagram feed WordPress plugin used to display Instagram feeds in different layouts.
Key Features
Some of its notable features are:
Multiple layouts: The plugin provides you with various layouts such as Masonry, Grid, Circular, and Slider. You can also adjust the number of rows and columns and the number of images shown.
Instagram sidebar widget: Using an Instagram widget, you can add Instagram feeds and a Follow widget to the sidebar of your website.
Lightbox: There are a total of six types of Lightbox plugins you can enable to show your Instagram photos in a pop-up – Classic, Swipe Box, prettyPhoto, Litbx, VenoBox, and AccessPress.
Pricing:
An only paid version is available of AccessPress Instagram Feed Pro at a cost of $17.
Which of the WordPress Instagram Plugins is Right for You?
You can embed Instagram feeds into your website easily using an Instagram feed plugin for WordPress. With WordPress Instagram plugins, add vibrancy to the site and increase visitor engagement, social media reach, brand awareness, and conversion rates.
Hopefully, this list has helped you better understand which plugins are right for you or your company. If you're still debating between one or two of them, here are some final thoughts:
For the simplest setup, go with the Spotlight.
For unique views like polaroid and badge views, pick Enjoy Social Feed.
For creating posts from your Instagram media, Intagrate is the one for you.
If you'd rather not pay for anything, blindly go with the Instagram Widget by WPZOOM.
For displaying feeds from multiple social networks like Instagram, Facebook, and Pinterest – Feed Them Social is the one for you.
If you are using Elementor page builder, I will suggest you to use Mighty Addons and use Insta Gallery Widget from its library. It is not only offering you the Instagram feed widget but also offering you another plenty of features which you can use on your website and take your Elementor experience to another level.
That's all there is to it! Please share your experiences if you have used any of these plugins in the past.
If you have any questions regarding the best WordPress Instagram plugins, drop a line in the comments section below.